[EDITORIAL] Warm relations
November 20, 2017 at 11:00
EDITORIAL – Warm relations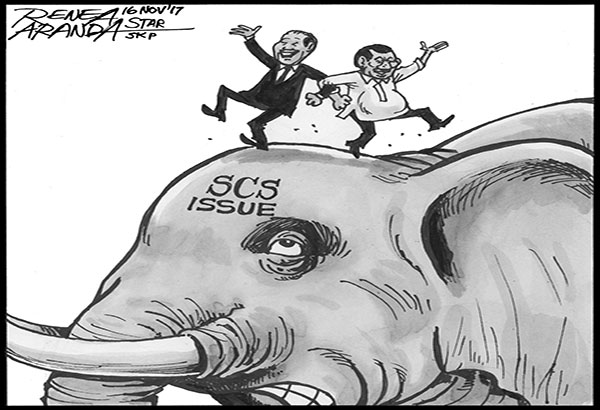 Ties between the Philippines and China have so improved they are now as warm as the weather in Manila. This is according to Chinese Premier Li Keqiang, who represented President Xi Jinping at the regional summits hosted by the Philippines in Manila this week.
The improvement in bilateral ties is as welcome as the thaw in the relations between the Philippines and its treaty ally the United States following the visit of President Donald Trump. China has centuries of friendly relations with the Philippines, reinforced by blood ties. Philippine culture has been heavily influenced by the Chinese, and people-to-people exchanges have been sustained as the two countries exist in peace.
That peace is threatened by China's expansive claim over nearly the entire South China Sea. This was the elephant in the room during Premier Li's meeting with President Duterte in Manila. Both countries have ratified the United Nations Convention on the Law of the Sea, under which a UN-backed arbitration court awarded sovereign rights to the Philippines over several reefs in the South China Sea and invalidated Beijing's entire nine-dash-line maritime territorial claim.
Beijing has ignored the arbitral ruling and refuses to move out of Panganiban or Mischief Reef, one of the areas over which the Philippines was specifically granted sovereign rights by the UN-backed court.
No amount of soft loans, assistance and trade deals dispensed by Beijing can match the value of the areas officially awarded to the Philippines as well as the rest of the disputed waters where China's claim has been invalidated. Worse, Beijing has created artificial islands in contested waters, and is installing military fortifications. These are not friendly, neighborly acts.
President Duterte has taken the tack of friendship to advance the country's interests in the disputed waters. He constantly stresses that the Philippines cannot afford war with China. But no one is proposing war with any country. Might does not make right in the international community, where every state is supposed to have an equal seat. This is the very reason why the Philippines opted for international arbitration to define its maritime entitlements.
The UN-backed court in The Hague handed the country a resounding victory. It's not something that can be swept under the rug in the name of a lopsided friendship. And the leader of a sovereign Philippines cannot afford to lose this case for lack of interest. President Duterte prefers not to rub it in. Filipinos can only hope that genuine friendship will prevail between the two countries and his approach will work.
Source: http://www.philstar.com/opinion/2017/11/16/1759337/editorial-warm-relations